ACOUSTIC TOUR REPORT September 2004 Germany and France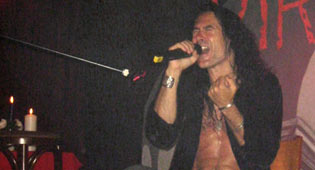 By Edmund Alscott
Electricity was in the air in the 1,000 year old winery where the first visitation of VIRGIN STEELE in Germany in quite awhile was to occur. The fever was high and the audience waited in a keen state of anticipation for David DeFeis & Edward Pursino to take the stage.

The lights went down, a roar went up and strange incantations and unearthly howls rent the smoke-filled room. Rising furiously to a dramatic crescendo… the haunted strains gave way to a split second of silence, and into the abyss of this silence a lone guitar chord rang out, the curtains opened and there they were in full "Barbaric-Romantic" glory, with energy, power, grace and magic. The guitar was joined by an eerie moan and they were off in full flight.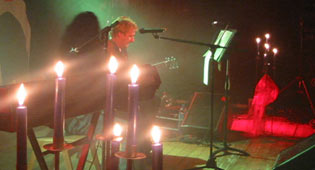 This was no folksy, down-home lazy unplugged set. No this was the Passion of the Gods, or the Sacrament of Heaven and Hell. DeFeis and Pursino delivered powerful "Sky Hymns', and majestic "Anthems" filled with pain, glory, triumph and tragedy. For over two hours they captivated the mind, body, and spirit of the audience.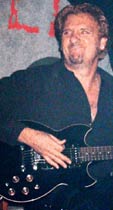 Edward played the guitar like a man possessed. He was at once refined, technical, savage and free. David sang like an angel, a devil, a banshee, a God. His voice can sound like a violin one minute and an avalanche the next. Together they create a sound that rivals any full group of metal musicians in action. In fact they were more powerful and fuller sounding than all the electric groups that preceded them on these incredible nights. The effect of their playing on the ears and the emotions I can liken only to a Viking storm. Overwhelming, captivating and relentless.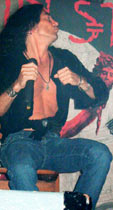 With David stomping his boots on the stage the audience joined in with handclaps and stomping of their own, which created an interesting wall of percussion. Numerous spontaneous outpourings of applause, shouted hails and "standing ovations" erupted all night long, as a testament to these musicians noble performances. I saw many bowing in the "Wayne's World" "we're not worthy tradition"! I noticed grown men & women alternately weeping, smiling, shouting, and/or deathly silent during theses concerts, as they were emotionally charged and moved throughout the evening. In a word these performances were "cathartic". It was dark, and beautiful. There was drama, tension, love and anger, life and death, in each moment.


After laying waste to Bad Wimpfen, a wonderful town in the South of Germany, our heroes moved on to the noble city of Strasburg, France, where they wreaked similar havoc on the sensibilities of the audience there, and played an even longer show. Theirs is a high Art that is profound, immediate, visceral, lofty and yet accessible.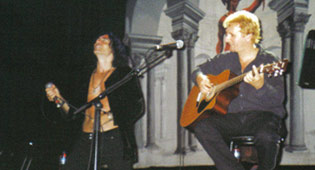 This year of 2004 has seen the VIRGIN STEELE Group perform far beyond expectations. Their "Electric" full band show is now over 3 hours long and has become legendary to all those who have witnessed it. Now it seems that the Fans are equally requesting the "Acoustic" show. Having been privy to the rehearsals and all the energy that went into both styles of concerts, I can tell you that this group of musicians is relentless in its pursuit of excellence! They work incredibly hard and are deeply and fanatically dedicated when it comes to bringing the best to their fans. Each member of the Group has grown by leaps and bounds over the years, and over this year in particular. Perhaps all the various hardships and tragedies of 2003 have also played a part in adding more mettle to their Metal. Whatever the reason is, all I can tell you is that individually and as a Group VIRGIN STEELE is in the finest form it has ever been in. I urge you to go see them perform in whatever incarnation they choose to appear.

Long live "THE STEELE"! Hail David, Edward, Frank and Josh, and again… a royal thanks to you both, David & Edward for these latest sublime "acoustic" performances.

Photos by Bianca the RockCat & Anne
SET LIST:

ACOUSTIC SHOW, BAD WIMPFEN, GERMANY SEPTEMBER 3, 2004

1. THE WINE OF VIOLENCE
2. SHE-DEVIL-BLACK MASS BLUES
3. SNAKESKIN VOODOO MAN
4. DON'T SAY GOODBYE
5. SYMPATHY FOR THE DEVIL
6. TWILIGHT OF THE GODS
7. MEDLEY#1:Intro…

A WHISPER OF DEATH
GREAT SWORD OF FLAME
WHISPER OF DEATH Reprise
EMALAITH
BURNING OF ROME
PERFECT MANSIONS

8. MEDLEY #2:

GARDEN OF LAMENTATION
WEEPING OF THE SPIRITS
LION IN WINTER
CHAINS OF FIRE
A WHISPER OF DEATH INTRODUCTION
HOUSE OF DUST

9. MISTS OF AVALON
10. UNHOLY WATER
11. TRAIL OF TEARS

ENCORE:
12. GUITAR SOLO
13. GOD OF OUR SORROWS
14. PURPLE RAIN
15. I WAKE UP SCREAMING

ACOUSTIC SET STRASBOURG, FRANCE September 4, 2004:

1. THE WINE OF VIOLENCE
2. SHE-DEVIL -BLACK MASS BLUES
3. SNAKESKIN VOODOO MAN
4. DON'T SAY GOODBYE
5. SYMPATHY FOR THE DEVIL
6. TWILIGHT OF THE GODS
7. MEDLEY#1:

Intro…
A WHISPER OF DEATH
GREAT SWORD OF FLAME
WHISPER OF DEATH Reprise…
EMALAITH
BURNING OF ROME
PERFECT MANSIONS

8. MEDLEY #2:

GARDEN OF LAMENTATION
WEEPING OF THE SPIRITS
LION IN WINTER
CHAINS OF FIRE
JET BLACK
A WHISPER OF DEATH INTRO
HOUSE OF DUST

9. MISTS OF AVALON
10. UNHOLY WATER
11. TRAIL OF TEARS
12. GUITAR SOLO
13. GOD OF OUR SORROWS
14. PURPLE RAIN
15. WILDFIRE WOMAN
16. I WAKE UP SCREAMING
17. FIGHT TOOTH & NAIL
18. WINGS OF VENGEANCE
19. FOREVER WILL I ROAM/with Eyes Without A Face…
20. GATE OF KINGS