VIRGIN STEELE live at THE DOWNTOWN
Farmingdale, Long Island / N.Y., 21 December 2002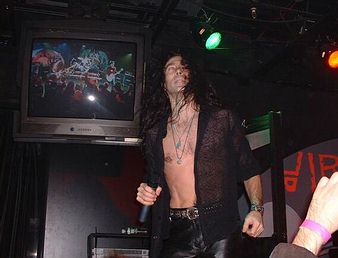 It will be remembered for an eternity. In hushed and reverent tones people will ask, "Were you there, did you see? Did you hear?" And those who were not will listen in awe, as those who were, recount the Tale of this Special Evening of 3 hours of Magick Fire Music! I was there on this night of nights. I will try to describe to those who were not there, just how it was:
It was just a few minutes before the clock struck midnight. The Kiss Tribute band (Dressed To Kill), had just finished performing a quite good set of Kiss classics, and the VIRGIN STEELE Crew were assembling the last pieces of gear needed for the show into place. Up went the keyboard stand complete with a very sharp and sinister sword attachment! The drums, the cables, and a guillotine???? Yes, a guillotine, were all in place and ready to go.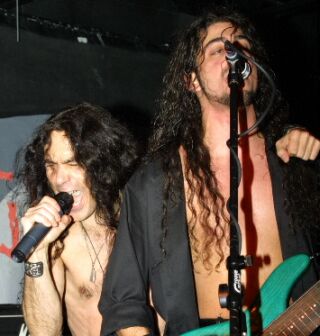 A thunderous roar filled the Air! The Entrance Music had begun. Fragments of various VIRGIN STEELE Songs, riffs and the complete "COILS OF THE SERPENT", announced the descent of these Gods from Olympus, to the venerated stage of the DOWNTOWN. 4 massive explosions of sound later, followed by an unearthly swelling keyboard and Wham! VS appeared in full flight launching into their by now customary opener…INVICTUS. The audience who had already been giving forth excited shouts of…VIRGIN STEELE, VIRGIN STEELE, erupted with even greater volume, into True Metal Ecstasy! Responsive and completely into every moment, these wonderful Fans never let up throughout the entire three hour onslaught.
With Thunder-fire and full Metal Mayhem! Frank Gilchriest and Josh Block laid down a Rock solid foundation, that was fluid, tight, aggressive, heavy as Hades, yet still full of grace and class. Frank's double bass pounded like those ghosts of the American plains, those ancient, giant, glorious Bison! Josh with hair flailing and fingers flying, excelled on both 5 & 6 string bass.
The Axe of the Gods!
Edward Pursino in top form, combined wailing solos with powerhouse rhythm. And sailing on top of it all, the majestic vocals and unearthly keyboards of David DeFeis. The man gets better with each performance. From a whisper to a scream and everything in between. David possesses a 3 octave range that pierces the soul!
As predicted, it was ... 3 hours of lunacy, with Power, Mystery and The Sword Of The Gods! I don't think the DOWNTOWN has ever witnessed a finer evening. Everyone, from the audience to the crew in the basement, was in total awe and appreciation! But far beyond the outstanding musical dexterity displayed, VIRGIN STEELE delivered a true show of shows! The well crafted music combined with their truly magical stage presence, forged an evening of true transcendence and "Transfiguration". This folks went way beyond merely giving forth great live renditions of superb songs. This was mystique on the hoof, and becoming one with the Gods!
If you have never witnessed VIRGIN STEELE up close, sweaty and dangerous, I suggest you do so at your earliest convenience. It might just change your life (It changed mine!). Massive Metal anthems, acoustic moments, solos, improvisation, flaming swords, and even the severed head of Lord Priam (King of Troy) made an appearance. Mr. DeFeis pulled this ghastly apparition out of the bloody basket in front of the guillotine, during RETURN OF THE KING, and he impaled the still bleeding stump on top of the sword which was grafted onto his keyboard stand.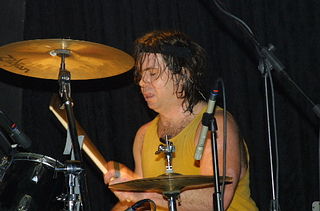 I could go on for days, singing the praises of this Band and this particular performance, but I think I will conclude here and leave you with the Set List. Let it suffice to say that Endurance, Strength, Total Power, Commitment, God-like Presence, Skill and a Masterful Body of Work made this a Night of Nights to remember, and a performance by which all others should be judged. No one commands a stage like VIRGIN STEELE, and no one possesses a Catalogue of Compositions this strong. These Songs are strong enough to remain interesting and engaging for a concert of over 300 hours! Of this I am certain.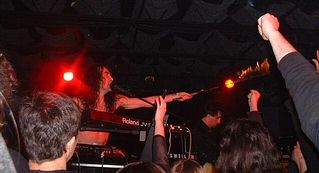 Cheers, a Royal Thanks and a well deserved round of drinks to: David DeFeis - Vocals and Keyboards, Edward Pursino -Guitar, Frank Gilchriest - Drums and Josh Block - Bass. Gentlemen, you Ruled The Night!
David Hilsenrath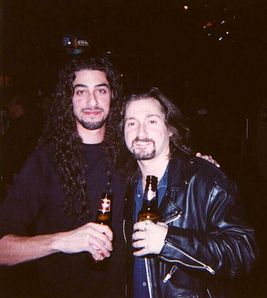 Josh and David Hilsenrath
THE SET: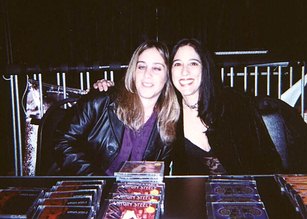 The Merch Girls: Debbie & Lisa!
1.INVICTUS
2.LIFE AMONG THE RUINS
3.VOICE AS WEAPON
4.CONJURATION OF THE WATCHER
5.FROM CHAOS TO CREATION

6.TWILIGHT OF THE GODS
7.GOD OF OUR SORROWS (with just David & Edward)
8.VOW OF HONOUR/DEFIANCE
9.DUST FROM THE BURNING
10.A TOKEN OF MY HATRED
11.VOX SOLO INTRO / CROWN OF GLORY
12.WHEN THE LEGENDS DIE
13.THY KINGDOM COME - INTRO
14.GUITAR SOLO / VOX SOLO WITH BURNING SWORD!!!
15.GREAT SWORD OF FLAME
16.A SYMPHONY OF STEELE
17.THE WINE OF VIOLENCE
18.IN TRIUMPH OR TRAGEDY
19.RETURN OF THE KING --- (Including LORD PRIAM'S SEVERED HEAD!!!)
20.FLAMES OF THY POWER
21.DRUM SOLO
22.I WILL COME FOR YOU(Including improvised intro that also contained Whole Lotta Love)
23.KINGDOM OF THE FEARLESS
ENCORE #1:
A CRY IN THE NIGHT/DON'T CLOSE YOUR EYES (Acoustic)
"THE MARRIAGE THEME" into VENI VIDI, VICI
NOBLE SAVAGE
ENCORE #2:
THE BURNING OF ROME